Stacy McNish, Humanim Consumer Benefits Coordinator, was recently interviewed by The Avenue News!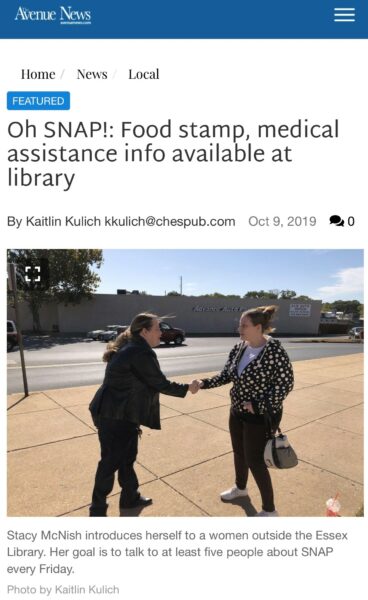 Stacy shared about Humanim's SNAP Outreach that takes place every Friday at the Essex Library, Baltimore County, and how she helps connect people with Nutrition Assistance Program (SNAP) benefits, as well as other state resources including Supplemental Security Income (SSI) and the Maryland Department of Health's EID program, which provides Medicaid to working Marylanders with disabilities.
As an authorized representative, Stacy's role "is to act as middleman between people who need to receive SNAP and the social services offices," allowing her to do on-the-spot interviews and applications for those who want to receive SNAP benefits.
For community members who would like to learn more and apply for benefits, you can visit Stacy at the Essex Library every Friday from 10:00 a.m. to 12:00 p.m.!
Read the full article at: https://bit.ly/2p0eBCd