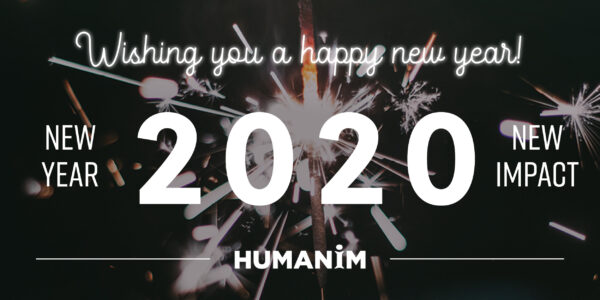 In 2019 – together, with your support – we helped over 4,000 individuals make significant strides along their personal pathways to independence and employment. We wanted to share again, just a few of those stories.
Daniel's Story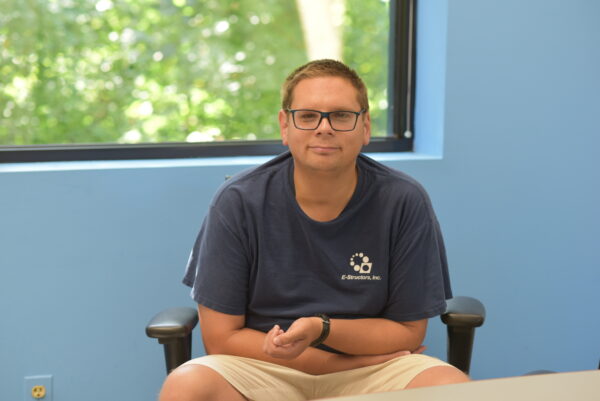 Daniel was first referred to Humanim's Developmental Disability Services in 2005 through his stepfather who was a former employee. With his outgoing personality, Daniel was quick to make friends in the day program, and eventually began participating in Humanim's vocational services as well. With the help of his job coach and vocational coordinator, he became a treasured Customer Service Representative at Harris Teeter in 2014.
When Daniel first started working at Harris Teeter he had challenges getting enough hours due to seasonal hiring during the holidays, but with the help of his job coach he was able to talk to his manager about the issue and acquire more hours. During this time he also pursued his driver's license, an achievement that allowed him to have his own transportation to work and increased independence.
Daniel enjoys his job and helping customers with any issues that come up. This year, he received a letter from the President of Harris Teeter, Rod Antolock, congratulating him and expressing appreciation for his work. The letter informed him that one of Daniel's customers wrote to the president, praising Daniel's excellent customer service. Harris Teeter is not only proud to have Daniel as an employee, but his motivation to help out with any and all needs has gained him the appreciation and respect of his colleagues as well. Daniel credits Humanim with helping him to gain more independence in his life, and his friends and staff at Humanim could not be more proud of the success he has achieved over the last few years.
Humanim's Developmental Disability employment services focus on matching an individual's unique interests and skills to the hiring needs of employers. Once employed, our retention specialists continue to work with individuals and employers to ensure job success, through case management, job coaching, advocacy, and other job supports.
Zakeeyah's Story
Zakeeyah was looking for an opportunity to build a better future for herself and her children. When she applied and was accepted into Humanim's Multi Skilled Med Tech training program, she felt like the program had something unique to offer. In the past Zakeeyah had found it hard to concentrate in class and take her classwork seriously. But this program "made me feel like I had something to gain," and she found the motivation she needed to put her best foot forward and succeed in the program.
Though it proved to be challenging at times, Zakeeyah had an amazing support system of teachers and encouraging classmates who helped her persevere. Zakeeyah completed the Multi Skilled Med Tech training program, earning certifications in Medical Terminology, Electrocardiogram, Venipuncture, CPR First Aid, and CNA – which she will use to pursue an exciting new career and build a better future for her family.
"This experience helped me grow up in a way, and it gave me the resources and training I need to build a better future for myself and my children. I wouldn't have wanted to go through this experience with any other school or any other people than [Humanim]. I would also like to thank Ms. Ayesha for saving and believing in me and providing a chance for me to be in this program."
Humanim's Multi-Skilled Medical Technician career training program, in partnership with Baltimore City Community College (BCCC) provides free skills training, certification, job placement assistance and job support, while preparing participants for careers in the medical technician field.
Darnell's Story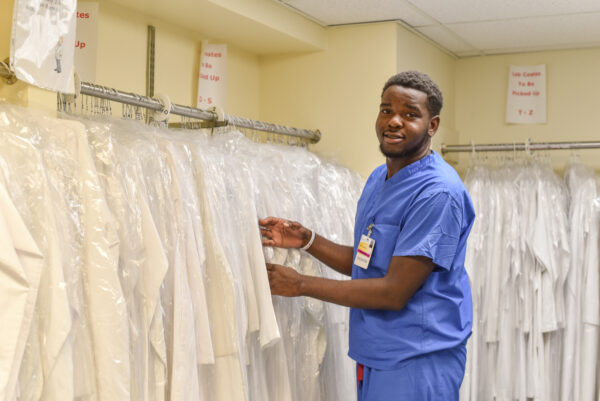 Darnell, a rising high school senior in Baltimore City, first heard about Humanim's Start on Success (SOS) program through his high school counselor. This summer was Darnell's second year participating in the SOS program, and he's gained a variety of experience in two internship settings. During the summer of 2018, Darnell interned at the YMCA, which was his first summer job and first paid work experience. This year, he wanted to obtain experience in another setting to gain further exposure and opportunity. "It's motivating to have a job," he says. He decided to intern at UMMS, where he works in the linens department.
Darnell works diligently to load and unload the dock, organize lab coats, and keep the hospital's linens fresh and tidy. From his coworkers, peers, and SOS Coordinator, it's clear that Darnell's positive attitude and willingness to be a team player has been instrumental to his success in his internships. When asked about his experience in the program, Darnell says, "The program made me start opening up more with my peers. I've become more responsible, gained work experience, and perfected skills." Outside of working at UMMS, Darnell and other SOS participants receive classroom instruction, work readiness training, and assistance with identifying career interests.
 
An award-winning workforce program launched in 1997, SOS is a partnership between Humanim, the Division of Rehabilitation Services (DORS), local school systems and numerous employer partners. Since its inception, SOS has assisted over 700 young adults throughout Baltimore City, Anne Arundel, Harford, Baltimore, and Howard counties, and Wilmington, DE, in making a successful transition from school to work.
Lee's Story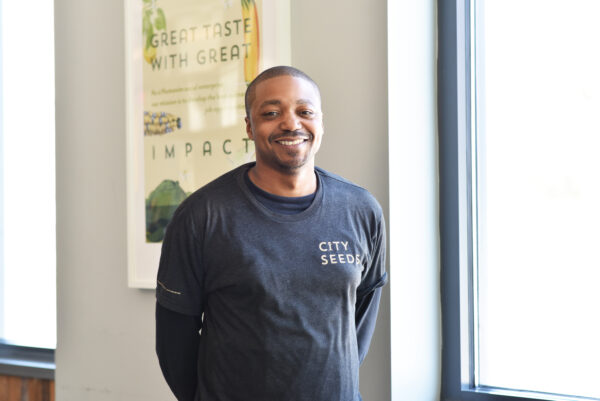 Rochester LeArtis – known as Lee – started at City Seeds in November of 2016 as a Driver. A loving father of six children, Lee found out about City Seeds through Humanim's Workforce Solutions program, which assists TCA recipients with finding employment. After being in and out of prison for several years, Lee had found it difficult to find consistent employment that would support his family.
Lee was a key member in the beginnings of the City Seeds team!  He helped form operating procedures that are now standards for the company, including reviewing the order with the client upon delivery and making sure everyone is satisfied before getting back on the road.
Since helping launch City Seeds' catering services almost three years ago, Lee's role has expanded to Service Delivery Driver, increasing his responsibilities to include elaborate setups for full service events, such as cocktail parties and plated dinners. He has also grown to become City Seeds' go-to trainer for newly hired team members, showing them the ropes and making them feel like part of the team immediately upon their start. Lee truly enjoys his job at City Seeds, and the connections he has made through his work.
"My life changed in many ways. For one, I got a stable job that allows me to support my family. For two, I get to meet a lot of interesting people – literally, every day. Which can lead to other connections that help you personally or on the job. I'm not stuck in one thing all the time. It's an adventure."
Humanim's social enterprise division not only creates job opportunities for those who face challenges to employment, but it provides the stability and training needed for individuals to advance in their careers and land other jobs. Each of our social impact businesses operate within an ecosystem of corporate, government and community partners that strengthen the local economy, while creating opportunities for small, minority businesses and community members, through workforce training and job creation.
---
Every one of these success stories was made possible by you. Without your partnership, we could not do the work that we do.
Please consider supporting Humanim this coming year by making a donation in 2019. Humanim is a 501(c)(3) nonprofit organization. Your gift this year ensures we will continue to be able to build pathways toward economic equity, opportunity, and independence for people like Daniel, Zakeeyah, Darnell, and Lee.
We truly thank you for all that you've made possible this year. And we look forward to working together in the year ahead.
Best Wishes for a Happy & Impactful New Year in 2020,
Henry Posko
President & CEO