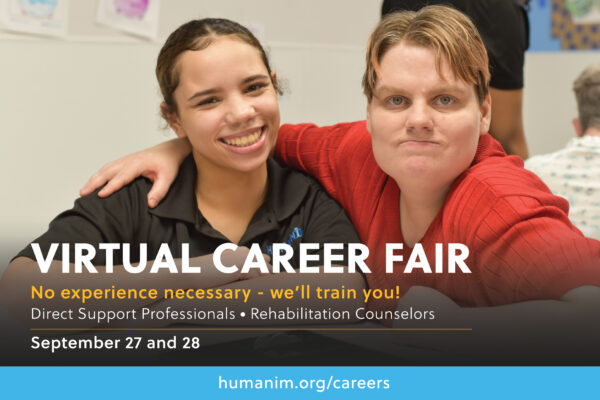 Build your career with Humanim to make a positive change in your community! Attend our virtual career fair on September 27 and 28 to learn about open job opportunities.
We're hiring full-time and part-time Direct Support Professionals and Rehabilitation Counselors in Baltimore and Howard County. No experience is required. We accept candidates with high school diplomas or GEDs and offer on-the-job training.
Our work is representative of our belief in the potential of every human being, and our commitment to see this through is uncompromising. It's what makes us Humanim. We support our staff and provide training opportunities along the way for career advancement.
To register, visit our Careers page and search for one of the following, "Virtual Career Fair – Direct Support Professional Day Service PT (Part Time)," "Virtual Career Fair – Direct Support Professional FT (Full Time)" or "Virtual Career Fair – Rehabilitation Counselor, Mental Health FT" and click "Apply for Job."