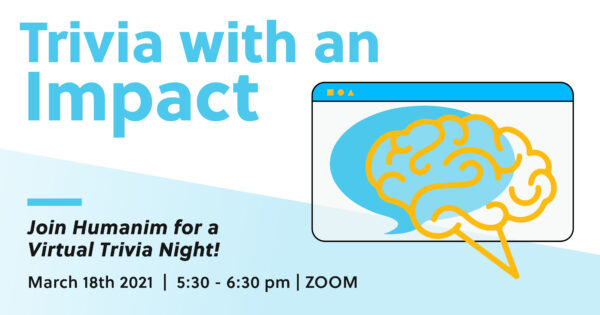 Grab your favorite drink and challenge your friends, family, and colleagues to test their trivia knowledge at Humanim's "Trivia with an Impact" Night. A great opportunity to spend virtual time with your favorite folks and engage in some fun and friendly competition – all while investing in impact initiatives in your community.
All event proceeds go directly toward Humanim's essential, front line supports to community members who are especially vulnerable to the health risks, economic and isolating effects of the pandemic.
WHEN: Thursday, March 18th from 5:30-6:30 PM
Participants will receive the Zoom link and additional information via email.
Purchase an Individual Ticket for $25 at: bit.ly/Humanim-Trivia-Night and/or Learn More about Sponsorships below.
PRIZES:
1st Place – $250 Amazon Gift Card
2nd Place – $150 Amazon Gift Card
3rd Place – $50 Amazon Gift Card
SPONSORSHIPS:
"Einstein" Sponsor – $1,000
– Opportunity to provide remarks at the event
– Logo/name recognition on website, social
media, and during the event
– Two commemorative Humanim 50th
Anniversary t-shirts
– Four tickets to the event
"Mastermind" Sponsor – $500
– Logo/name recognition on website, social
media, and during the event
– One commemorative Humanim 50th
Anniversary t-shirt
– Two tickets to the event
"Whiz-Kid" Sponsor – $250
– Logo/name recognition on website, social
media, and during the event
– One ticket to the event
For more information, please reach out to Diana Ellis, VP of Strategic Partnerships & Development at 410.381.7171 | dellis@humanim.org