Workforce Solutions enjoy's Sugar Rush
Are your Mondays manic? On Tuesdays, are you counting down until the weekend? Do you drag through "hump day" Wednesdays? Well, Today's 101.9 has a sweet treat for you!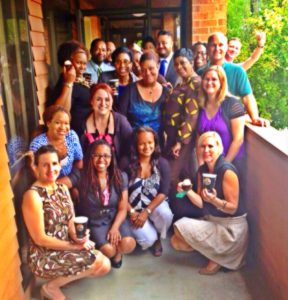 Humanim's WorkForce Solutions division was treated to a Sugar Rush from the radio station 101.9 on August 14th. Staff enjoyed treats from LaCakerie and Chesapeake Bay Roasting Company. Staff had the opportunity to relax and network and share info about Humanim's mission and services with the radio station staff. A good time was had by all.
Every Thursday, Greg and Mary Anne, from the Get Up & Go Morning Show, will visit area offices and businesses with goodies from La Cakerie and coffee from Chesapeake Bay Roasting Company. Wait, the deal gets even sweeter. We will even stay a little while, chat, and play games with your office! After all, Thursday is the eve of Friday. Why not celebrate with Today's 101.9