Press Release September 26, 2012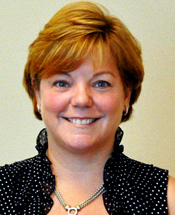 BALTIMORE, MD – Jeanne Kennedy, the Vice President and Corporate Treasurer for CareFirst BlueCross BlueShield, recently joined the Board of Directors for Humanim. Humanim is a not-for-profit organization that was founded over 40 years ago to provide services for individuals facing barriers to employment living within the Baltimore/Washington region. Annually, the organization invests in the future of over 4,500 individuals by providing services within three focus areas: Workforce Development, Clinical Services, and Community Development.
Ms. Kennedy brings to the board a wealth of experiences gained throughout her extensive career. In her role as Vice President and Corporate Treasurer for CareFirst BlueCross BlueShield, Kennedy is responsible for investment portfolio management, strategic financial planning, and risk management for the company's Maryland and Washington, D.C. affiliates. CareFirst, an independent licensee of the Blue Cross and Blue Shield Association, is a not-for-profit health insurance company that, through its affiliates and subsidiaries, offers a comprehensive portfolio of health insurance products, direct health care and administrative services to 3.4 million individuals and groups in Maryland, Northern Virginia and the District of Columbia.
Upon her selection, Ms. Kennedy said: "I am honored to be joining the board of Humanim. I look forward to helping advance its mission and vision to help connect individuals and families living throughout Maryland with sustainable employment."
Ms. Kennedy is a resident of Ellicott City, Maryland, and received her Bachelor's degree in Accounting from Villanova University. She is also a 2006 graduate of the Greater Baltimore Committee's Leadership Program.