Press Release July 12, 2012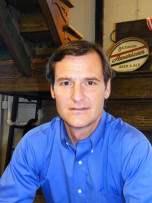 Humanim is pleased to announce that Chris Posko has joined the organization. Humanim is a not-for-profit organization that was founded over forty years ago to provide services for individuals with barriers to employment living within the Baltimore/Washington region. Annually, the organization invests in the future of over 4,500 individuals by providing services within three focus areas: Workforce Development, Clinical Services and Community Development.
Mr. Posko will be serving as the Operations Manager for Humanim's new division, DETAILS, a precision deconstruction enterprise with a commitment to innovative reuse of salvaged materials. He brings to Humanim a wealth of experiences gained throughout his career. Most recently, Posko served as the Director of Deconstruction for Second Chance, Inc. a non-profit organization focused on a green architectural salvage/reclamation.
Previously, Mr. Posko served as the Owner/Partner of Quadrant Contracting Company, a general construction firm established in 1986, concentrating in new high end residential building and renovation. In this role, he was responsible for construction operations, project supervision and management. He has been personally involved in the supervision of every project. In this position, Posko gained experienced in the construction of high-end residential homes, hotels, day care facilities, restaurants, and medical facilities. He is presently pursuing certification as a LEED accredited professional.
Upon his selection, Mr. Posko, a resident of Pasadena, Maryland indicated that "I am honored to be joining the team at Humanim. I look forward to helping advance their mission and vision to help connect individuals and families living throughout Maryland with sustainable employment."
Contact:
Jeffrey W. Smith, Director of Public Affairs
(410) 381-7171, x5529