Media Advisory: March 18, 2015
Contact: Alexandria Warrick-Adams, 410-718-8482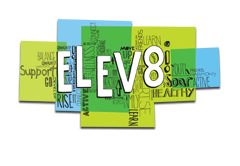 BALTIMORE—Brothers Jeremiah and Joshua West, of Rochester New York, will read from their self-penned children's book Champions of Change: Live to Give at two East Baltimore schools, in an effort to teach other students about writing, entrepreneurship, philanthropy and community service.
What:  
A pair of authors and entrepreneurs, brothers who are not even 10 years old, will speak to groups of middle school Elev8 Baltimore participants about their children's book, Champions of Change: Live to Give. Afterward, the brothers will facilitate a book writing workshop with Elev8 Baltimore's students.
When:  
Wednesday, March 25, 2015: 4:15-5:15 p.m. at Commodore John Rodgers Elementary/ Middle School
and
Thursday, March 26, 2015: 4:15-5:15 p.m. at Tench Tilghman Elementary/Middle School
Where:  
Commodore John Rodgers Elementary/ Middle School:
100 N. Chester St., 21231 (Wednesday)
and
Tench Tilghman Elementary/Middle School: 
600 N. Patterson Park Ave., 21205 (Thursday)
After the reading, the brothers—who are 9- and 7-years-old—will hold a writing workshop and help the middle-graders in the audience learn to write their own books.
The visit is being organized by Elev8 Baltimore, a division of Humanim. Elev8 Baltimore is a full-service community schools initiative that partners with schools and communities to ensure that every student is ready to succeed in high school and in life.
"These young entrepreneurs are living the fulfillment of our goal," says Elev8 Baltimore Youth Development Manager Devonne Franklin. "They identified an issue, recognized that they had the power and skill set to make a positive change and jumped head-first into starting their own business. This sets a fantastic example for the youth we serve and could empower them to start fulfilling their goals and being agents of change right now."
The West brothers wrote their children's book in 2013 with "the two-fold objective of improving childhood literacy and financial literacy [and] teaching their peers how to give, save, and spend their money wisely," according to a write-up on Amazon.com. They have been featured on local news channels in New York and other cities, and have been photographed with such black empowerment celebrities as talk show host Tavis Smiley.
The brothers will work with 10-12 Elev8 Baltimore middle-school students at Commodore John Rodgers Elementary/Middle School on Wednesday and eight-12 middle-school students at Tench Tilghman Elementary/Middle School students on Thursday.
The program is especially relevant to Elev8 Baltimore's students because Elev8 Baltimore participates in the Children's Defense Fund's Freedom Schools® – a summer and after-school reading enrichment program that seeks to build strong, literate, and empowered children prepared to make a difference in their communities and the world. The West brothers attend a "Freedom School" in their hometown of Rochester, NY.
For more information about Champions of Change, go to: http://championsofchangeusa.org/.
About Humanim
Humanim is a Maryland nonprofit with more than four decades of experience in workforce development, human services and social enterprise. Humanim's programs create opportunities for individuals with disabilities or other barriers to employment and for young people in school.
About Elev8 Baltimore
Elev8 Baltimore, a division of Humanim, partners with schools, families and the community to make sure that every student is ready to succeed in high school. Serving four schools in East Baltimore, the initiative works in three key ways: by engaging families and students to be effective advocates for themselves and their communities; by coordinating services and opportunities that every child needs and deserves; and by working with partners to change policies and practices of schools, government agencies and others to strengthen their focus on student success. For more information, visit www.elev8baltimore.org.