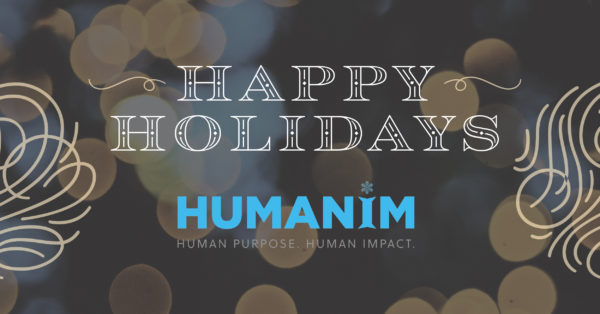 As we reflect on this last year, we are reminded of how truly grateful we are for your partnership, and for sharing our vision of an inclusive economy – where every human being has the potential to transform their lives.
Here are just a few of the ways we made strides in our mission to build pathways to economic equity, opportunity and independence in 2018:
Human Services
Humanim continued to excel at providing uncompromising human services for individuals with disabilities and behavioral health challenges in 2018. Our human services division not only helped clients achieve independence through transitions to employment, independent housing, and college – but also helped them stay out of the hospital, use fewer emergency services, and become more stable in their communities. This year our developmental disabilities department completed a department-wide restructuring, resulting in a single point of entry for our clients. This means clients and families are not only able to better navigate and explore service options, but each client is assigned an individual advocate to coordinate all aspects of a client's services, ensuring each individual receives the highest quality of personalized and holistic care.
Also this year, Humanim's Health Homes program launched several new client health initiatives, including its first Annual Consumer Health Fair, and the Living Well Workshop series which teaches clients and caregivers how to engage in healthy lifestyle practices. They also partnered with the Horizon Foundation's Speak(easy) Howard program to provide critical end-of-life healthcare education and resources for clients and their families.
Workforce Development
In partnership with the DLLR, Baltimore Integration Partnership, local anchor institutions, community colleges, and other nonprofits, Humanim's Workforce Development division continues to provide free career training, job development, and job support services to under and unemployed Baltimore residents. This year over 350 individuals participated in our career training programs which were provided in the Customer Service, Multi-Skilled Medical Technician, Warehouse Inventory, Fiber Optic Cabling, Culinary, and Administrative Assistant career fields.
Through these career training programs as well as our Workforce Solutions program, 114 individuals earned professional certifications and 320 individuals were placed into employment. The success of our community hiring strategy in partnership with local anchor institutions was highlighted by two of our anchor partners, Towson University and University of Maryland, Baltimore.
Youth Services
In 2018, Humanim placed 326 youth into paid, work-based learning internships throughout Baltimore City, Howard, Anne Arundel, Harford and Baltimore Counties, and Wilmington, DE. Humanim's Youth Transition programs, including the acclaimed Start on Success (SOS) program, STEP/WESTEP (Students to Employment), W2W (Way2Work), and WBLE (Work Based Learning Experience), provide students with special needs the opportunity to participate in paid work experiences while in school, and develop the skills necessary to make a smooth transition from school to the world of work. Our programs have developed on-going employer partnerships with Johns Hopkins Hospital, YMCA, University of Maryland Medical Center, MICA, Howard County General Hospital, Howard County Community College, and Humanim's own culinary social enterprise City Seeds. Many students graduate with an employment offer at the end of their internships.

Riding the wave of an award winning year in 2017, Humanim's youth behavioral health program Healthy Transitions (HT) was once again honored with a prestigious community award – this time the Association of Community Services' Audrey Robbins Humanitarian Award for Employee Team of the Year, honoring Howard County community services that go above and beyond all expectations. Because of the HT program this year, ten Howard County youth were prevented from dropping out of school and went on to receive their high school diploma, five youth were accepted into college, and more than half of the young individuals served have developed a support network which has allowed them to successfully integrate into the community. To date, Humanim's HT program has helped 150 youth in Howard County successfully transition into adulthood.
Social Enterprise
2018 was a big year for our deconstruction social enterprises Details Deconstruction and Brick + Board, which saw the fruition of The Baltimore Wood Project, a partnership between Humanim Social Enterprise, the U.S. Forest Service, national furniture retailer Room and Board, the city of Baltimore, and the state of Maryland through Project C.O.R.E. The Baltimore Wood Project brings together public, private and non-profit partners to repurpose urban wood from abandoned Baltimore rowhomes into reclaimed furniture lines, while saving materials from the landfill and creating jobs through the labor-intensive and environmentally friendly practice of deconstruction.

The pioneering collaboration grabbed headlines across the country, from NBC Nightly News to the front page of USA Today. It also served as the basis for Mutual of America's 2018 National Governor Hugh L. Carey Community Partnership Award, awarded to Humanim in November for outstanding contributions of nonprofit organizations who are delivering solutions to critical challenges facing our country. Our culinary social enterprises City Seeds and School of Food also made headlines this year for opening their teaching kitchen and corporate team building workshops, while creating culinary job opportunities for community members with barriers to employment. 2018 marks their first year as the anchor tenants at the Baltimore Food Hub, an economic development initiative in East Baltimore driving culinary job creation and training. Finally, in 2018 our legacy social enterprise iScan launched a new service line digitizing x-rays, landing its first large scale contract with a West Coast energy company.
We hope you know that we share in these achievements with you – our friends, colleagues, partners, and supporters. Without your partnership, we could not do the work that we do.
Please consider supporting Humanim this year by making a tax deductible donation today. Your gift this holiday season ensures we will continue to be able to make a positive impact in the lives of the individuals we serve.
From all of us at Humanim – we wish you and your loved ones a warm & wonderful holiday season!