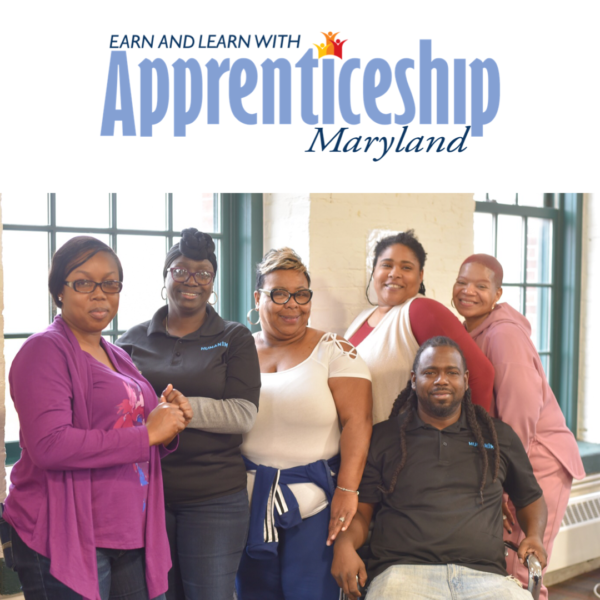 We are excited to announce that Humanim has partnered with Maryland Department of Labor to offer a brand new Direct Support Professional Apprenticeship program! Direct Support Professionals (DSPs) are the front line staff working directly with adults diagnosed with a Developmental Disability. One of the most important positions in Human Services, a DSP supports individuals with increasing the quality of life, and ensuring growth and independence.
From the Maryland Department of Labor press release:
The Maryland Department of Labor today announced three new registered apprenticeship programs, expanding opportunities for Maryland workers in high-wage skilled trade jobs and non-traditional apprenticeship industries. Apprenticeships are full-time careers that include on-the-job training and classroom instruction, allowing apprentices to "earn while they learn." Anyone 18 or older can be a registered apprentice, while high school students can pursue youth apprenticeships. These new programs…are growing professions projected to open 1,200 new positions in Maryland within the next decade. Quality control technician and direct support professional are new occupations included in the programs. "We are excited Humanim's Direct Support Professional (DSP) Apprenticeship Program is one of the first human service apprenticeship programs in a field where skills and knowledge are so critical in the promotion of individuals' quality of life," noted Henry Posko, President and CEO of Humanim. "We are proud to be able to offer this opportunity and increase career opportunities for Maryland workers in this field."
Program Details
As a registered Maryland Apprenticeship Training Program, each apprentice in our DSP Apprenticeship Program will receive on-the-job training within a variety of community based settings, while earning professional certification through the National Alliance for Direct Support Professionals. In addition to training and professional development, the program offers career advancement opportunities and pay incentives.
This program is offered to all current and future Direct Support Professonal employees at no cost.
How to Apply:
Visit Humanim's Careers Page to apply for a Direct Support Professional position
Once hired, Direct Support Professional employees are eligible to enroll in the program after their first 3 months of employment
For Program Certifications and Requirements, click the "Learn More" button